Profile
---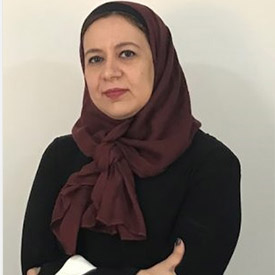 Dr. Mona Ibrahim Youssri
Psychology, Couples and family counseling, Counseling
Languages: English, Arabic
Experience: 7 years
---
I believe in the super power of
Family happiness and witnessing parents successfully figure out the relationship with their children is a life goal for me. Every family has its own challenges and I believe there is no one size fits all technique for family wellness. I think the counselors' role is to help each family, figure out their own healthy dynamics while coaching them to cope with the difficulties and provide them with skills to enrich their relationships with positivity, wellness, and happiness.
I believe in the super power of "PLAY" not only for the children but adults, as well as a very special factor for family bonding. Play enables the counselor to work on the area between cognition and emotions, where the person releases their heaviest burdens and unknown troubling agents.
Education & Work History:
I am a medical doctor MBBCH, with a psychiatry specialization, followed by an MA in Counseling Psychology.
Working as a psychiatrist and encountering mentally ill patients made me think of how I can have a role in reducing the struggles. So, as it is known that environment can have a significant role in stimulating mental illness specifically for those genetically predisposed, I decided to work with parents and Teachers on regulating the environments where children are nurtured into healthy well balanced human beings.
The same passion also leads me to founding a psychology based early childhood organization where parents receive psychological guidance through parenting workshops and teachers receive ongoing psychology based trainings.
I am fluent in both English & Arabic. Brought up in an international and multicultural environment.
Couples and Family Counseling
Family Relationship Play Assessment
Parent-Child relationship Training
Behavior Management Coaching
Classroom Management Coaching
Coping with Separation and Divorce
Blended Families
Social Skills Training & Friendship Skills
Anger Management training
Anti bullying strategies & Assertiveness Training.
Empathy training for bullying and aggressive children
Play Therapy & Sand Therapy for: Trauma, nightmares, selective mutism, anxiety, phobias, and sexual abuse prevention & Treatment.
School Observations & Consultations (Designing strategies for safe schools)
Parenting Workshops
Parent-Child relationship improvement course
Teacher Training Courses – Care giver training
Reggio- Emilia Early childhood educational approach training for nurseries and Schools.
Cognitive behavioral Therapy.
Masters of Arts in Counseling Psychology, AUC 2012.
30 CE in Play Therapy from the APT (Association of play Therapy)
Intensive study course of the Reggio Emilia approach ( Italy)
Finished studying the first part of Masters in Psychiatry and Neurology.
T.O.T certificate from ICCI Center accredited by Oxford press.
M.B.B.C.H of Kasr El Aeiny medical school, January 1995.
General certificate of education (G.C.E) of London University, January 1989.
Prep. &Sec. Education at Victoria College, Maadi, Cairo.
Kindergarten and primary at the British School, New Delhi, India.
Letter of Acceptance eligible for licensure as a couples and Family counselor from DHCC, Dubai.
MEPA member
APA (affiliate international member)
PSY CHI chapter permanent member
Book an Appointment with Dr. Mona Ibrahim Youssri
For more information, please contact: , +971 50 2770888
---