Profile
---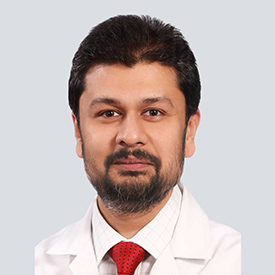 Dr. Asif Sattar
Pulmonology
Languages: English, Arabic
Experience: 15 Years
---
Pulmonology is the area of medicine that focuses on the respiratory system's health. Pulmonologists are medical specialists that diagnose and treat conditions affecting the respiratory system.
Dr. Asif Sattar completed his medical training from the prestigious KMC, Manipal in India. He is UK board certified in Pulmonology/Chest medicine. His training in pulmonology in the UK included working in various renowned centers of excellence, including hospitals in Birmingham, Leeds, and Sheffield.
He moved to Dubai in 2008 and established the Pulmonology department in the first hospital in Dubai Healthcare City. This included establishing and running of busy pulmonary function and sleep lab.
He continues to perform Fiberoptic Bronchoscopy with transbronchial lung biopsy and bronchial lavage. He also consults on patients in the medical wards and the intensive care unit in a hospital at Dubai Healthcare City.
Interests and expertise include investigations and management of the following:
Severe asthma
Lung infection including bronchiectasis
Obstructive sleep apnea
Sarcoidosis
Interstitial lung disease
Lung cancer
COPD/emphysema
Tuberculosis
Languages spoken
English, Hindi, and Urdu
Conditions Treated​
Asthma
Bronchiectasis (when the lungs can't clear mucus)
Bronchitis (inflamed mucous membranes)
Chronic obstructive pulmonary disease (airflow blockage)
Emphysema (when lung alveoli are damaged)
Interstitial lung diseases (affect space and tissue around alveoli)
Occupational lung diseases (due to inhalation of dust, chemicals or proteins)
Obstructive sleep apnea(breathing slows or stops entirely during sleep
Procedures Performed
Exams and tests to help diagnose lung-related issues:
CT scan: To view detailed images of bones, muscles, fat organs and blood vessels
Pulmonary function test
Pulse oximetry test: Oxygen saturation levels in the blood
Bronchoscopy: To examine airway for issues in the trachea, lower airways, throat or larynx
Sleep studies: For sleep disorders like sleep apnea
MBBS, Kasturba Medical College, Mangalore University, India. (1994)
MRCP, UK (1999)
CCST (UK Board certification) in Respiratory and Internal Medicine (2005)
FRCP Edinburgh (2018)
Member of the Royal College of Physicians, United Kingdom
Fellow of the College of Chest Physicians (FCCP), USA
Member of the European Respiratory Society
Fellow of the Royal College of Physicians FRCP Edinburgh
DHCC - Licensed by Dubai Health Care City, Dubai, UAE
Book an Appointment with Dr. Asif Sattar
For more information, please contact: , +971 50 2770888
---