Our Clinician
---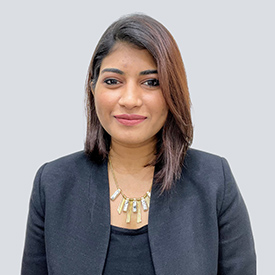 Sinu Rachel Thomas
Speech and Language Therapy
Languages: English, Hindi, Malayalam, Marathi, Kannada
Experience: 6 Years
---
Making a difference, one word at a time!
I am a Speech & Language pathologist, graduated from Mangalore University, India.
I have an experience of over 5 years at various organizations across Bangalore, India and currently in Dubai. My experience includes providing speech therapy services, treatment and rehabilitation for the adult population who have lost their ability to communicate as a result of traumatic brain injuries/ stroke. And early intervention programs for children with congenital/ developmental language disorders.

I have received trainings at workshops conducted by Med-El in auditory verbal therapy for children with cochlear implants and post-surgical intervention, strategies and counseling for patients and parents/ caregivers. Attended the SOS feeding workshop and The Movement Program workshop in Dubai.
Furthermore, I have received level II certification in oral placement therapy by TalkTools, USA in December 2019.
I always pursue to keep my knowledge up to date with state-of-the-art practices in my field of practice and incorporate various activities through experiential learning.


Delayed language disorders in children
Childhood apraxia of speech
Oral sensory disorders
Feeding difficulties (mother and child)
Sensory motor approach to feeding
Auditory verbal therapy
Post stroke rehabilitation
Cognitive deficits secondary to traumatic brain injuries, brain tumors and neurodegenerative disorders
Dysarthria
Stuttering (fluency disorders)
Voice disorders
Learning disabilities
Bachelor's degree in Audiology and Speech Language Pathology
Level II Oral Placement Therapy
Rehabilitation Council of India
Indian Speech and Hearing association lifetime membership
Dubai Healthcare City Authority
Book an Appointment with Sinu Rachel Thomas
For more information, please contact: , +971 50 2770888
---