Our Clinician
---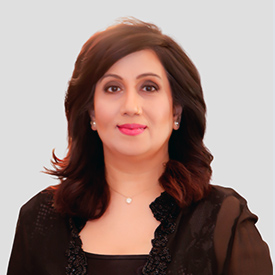 Dr. Beena Walawalkar
Physiotherapy
Languages: English, Hindi
Experience: +15 Years
---
I believe in evidence based physical therapy practice, utilizing the latest research and state of the art technology available, to enhance the health and quality of life.
Dr. Beena's Institute Of Modern Physio-Rehabilitation Excellence
I have done my Doctor of Physical Therapy from University of NUMSS (USA), I have completed my master's degree from University of Mumbai & was a gold medalist. During my tenure at All India Institute of Physical Medicine & Rehabilitation I gained extensive experience in treating special needs children through various contemporary therapeutic treatments with excellent results. I also acquired expertise in acupuncture & dry needling techniques to treat pain & musculoskeletal injuries.
I am practicing physiotherapy & rehabilitation medicine for more than 15 years in different countries including USA and UAE.
I am a well-known expert in management of spine related pain through various therapeutic modalities like non-surgical spinal decompression therapy (Noninvasive disc treatment)

I am very well experienced in the treatment of orthopedic injuries, sports injuries, neurological conditions, pain management, musculoskeletal injuries, and neuro-developmental techniques for children with special needs. I am also an experienced professional in office ergonomics consultation.

I am well versed in the state-of-the-art technologies in diagnostics and patient care in the realm of physiotherapy and rehabilitation medicine and firm believer in educating the patients & their care takers ON how to prevent & improve health conditions.


Nonsurgical spinal decompression therapy (Non-invasive disc treatment)
Musculoskeletal physiotherapy.
Pain management.
Non-surgical pain management (Neck & back care)
Post-surgical rehabilitation of hip & knee replacement.
Sports injury management & rehabilitation.
Rehabilitation of trauma & orthopedic conditions.
Neurodevelopmental therapy for special needs children.
Neurological rehabilitation of adults & children.
Cardiac & pulmonary rehabilitation.
Gynecological physiotherapy.
Dry needling techniques.
Kinesiology taping techniques.
Ergonomics & workstation management.
Doctor of Physical Therapy (USA), PHD in Health Care Administration,
Master's degree in Physiotherapy from All India Institute of Physical Medicine and Rehabilitation (Central Government of India) – (Bombay University). Gold medalist.
Post Graduate Diploma in Rehabilitation,
Diploma in Acupuncture.
Post Graduate Diploma in Hospital & Health care Management from Symbiosis Institute of Health care."
Physiotherapist, Dubai Healthcare City Authority (DHCC LICENSE)
Book an Appointment with Dr. Beena Walawalkar
For more information, please contact: , +971 50 2770888
---