Profile
---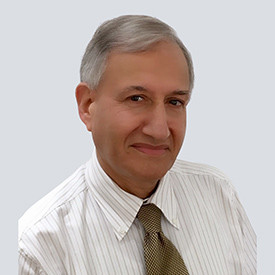 Dr Mukhlis M. Madlom
Pediatrics, Developmental Pediatrics
Languages: English, Arabic
Experience: over 33 years
---
I embrace ethical, evidence-based, holistic, and multidisciplinary strategies in treating children and young people who have additional health needs.
I achieved over 33 years of experience in clinical Pediatrics and Child Health care in the United Kingdom before bringing my medical practice to Dubai in 2016. My studies began at the University of Baghdad, in Iraq, but I hold United Kingdom certifications in Pediatrics and Child Health care, including neonatal, general, and community pediatrics. I am proud to be a Fellow of the UK's Royal College of Pediatrics and Child Health, a Fellow in the Royal College of Physicians of Ireland, and a Fellow of the UK's Higher Education Academy.
My work in pediatrics goes beyond assessment, diagnosis, and management, because I believe in staying involved in ongoing support for my patients and their family.
Education and Background
For over 20 years, I was a "consultant pediatrician the most senior medical grade in the United Kingdom's National Health Service (NHS). That role saw me practicing both in hospital and community settings. My specialty and passion lies in the field of neuro-developmental pediatrics, which comprised the bulk of my caseload.
Besides my Doctor of Medicine degree, I also hold a Master's Degree in Education, which I achieved at the University of Sheffield. My thesis became a passion project for me. Its topic was "Home visits by medical students to children with disabilities and their families as an educational experience." This led to me creating a community education partnership that paired medical professionals with families struggling to learn about their children's disabilities, as well as obtaining services for them.
The United Kingdom's National Children's Headache Course also became a big focus for me professionally, and, over the years, I was a faculty member, lecturer, and even co-chair in the program.
For ten years, I served as Director of Medical Undergraduate Education at Doncaster & Bassetlaw Hospitals NHS Foundation Trust, also in the UK.
The University of Sheffield designated me as an Honorary Senior Lecturer in Pediatrics and Child Health. Later, in 2012, I was honored when the University of Sheffield's medical students elected me to receive the Clinical Teaching Award.
I am also proud to belong to numerous prestigious medical organizations, and I'm proud to have been awarded a national certificate of "NHS Hero" in 2013.
Between 2011 to 2014, I acted as Regional Advisor to the Royal College of Pediatrics & Child Health in Yorkshire & Humber, UK.
In my 33-years-plus of UK practice, I was frequently published in numerous medical journals, including the British Medical Journal and Lancet.
Since relocating my practice to Dubai and the Middle East in 2016, I have spoken frequently at regional hospitals and medical conferences. Presently, I sit on the "Expert Panel" for the Dubai Pediatrics Club, with a focus on developmental pediatrics.
I am fluent in both Arabic and English, and I look forward to working with your family.
General pediatrics
Neurodevelopmental pediatrics and childhood disabilities
Metabolic disorders
Developmental delay
Cerebral palsy
Children's headaches
Coordination difficulties
Use of 'Schedule of growing skills' tool for developmental profiling
Use of Children Autism Rating Score (CARS ll) for autism diagnosis
Use of Conners Questionnaires for diagnosis of ADHD
MB ChB University of Baghdad, Iraq 1972
Diploma in Child Health Glasgow, UK 1981
Certificate of Completion of Training in Pediatrics and community child health (UK) 1995
Fellow of the Royal College of Paediatrics and child Health (UK) 1997
Fellow of the Royal College of Physicians of Ireland 2006
Fellow of the Higher Education Academy, UK 2007
Master Education, University of Sheffield, UK 2007
Member of the European Academy of Childhood Disability.
Co-Chair, faculty member and lecturer on the UK national Children's Headache course (CHaT).
In 1999, he established a local group (called ROUTE 2000) of parents and professionals to work and learn together in the field of childhood disability in Doncaster, UK.
'Most Supportive in Health Service' awarded by children & families in Doncaster in 2011.
'Best in Health' awarded by children & families in Doncaster in 2012.
Elected by parents and awarded the national certificate of 'NHS Hero' in 2013.
On the General Medical Council specialist register, UK.
Licensed by the Dubai Healthcare City Authority as physician since 2015
Licensed by the Dubai Health Authority, specialist paediatrician since 2015
Book an Appointment with Dr Mukhlis M. Madlom
For more information, please contact: , +971 50 2770888
---