Our Clinician
---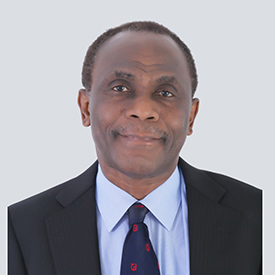 Dr. Adeyinka Shoroye
Pediatrics
Languages: English, Spanish, Arabic (basic)
Experience: 30 years
---
Children are future builders, their health and wellbeing is a guarantee for the better nation building. Early life good experiences and steps in the right direction will determine the success of the child and family life
My passion in medical practice lead me to discover and explore better training in the world. Which I achieved through my education and residency training in Pediatrics at Howard University Hospital, Washington D.C. I have been a fellow of the American Academy of Pediatrics since 1992. I did my initial medical school education in Nigeria and completed residency training in the USA.

I am board certified in Pediatrics by the American Board of Pediatrics, I have practiced for many years in the USA. I have many awards and accolades which includes being one of America's top Pediatricians, 2004-2006
After working in USA, I decided to work in my home country (Nigeria) as pioneer consultant at the National Space Center, Abuja for Telemedicine Project- 2008, after the successful launch of a new space satellite (NigComSat-1) till 2012. After which I moved to the UAE and started working in hospitals and medical centers to provide pediatric care.
I am an expert in treating Pediatric allergy, Asthma and Atopic conditions.
Asthma
Allergic Rhinitis
Eczema
Psychological Issues related to medical health
Childhood and Adolescent Obesity
Childhood Behavioral Problems
Pediatric Infectious Growth
Faltering Growth
Feeding Problems
Preventive health including vaccinations
Fellow of the American Academy of Pediatrics, October 1992 to date
Member, American Medical Association
Member California Medical Association
Member, California Children's Services Panel (CCS)
Member, American College of Forensic Examiners
UAE- Dubai Healthcare City Authority
UAE- Dubai Health Authority
Book an Appointment with Dr. Adeyinka Shoroye
For more information, please contact: , +971 50 2770888
---