Profile
---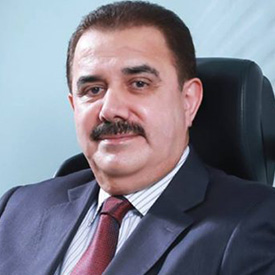 Dr. Hossein Mubarak
Psychiatry
Languages: English, Arabic
Experience: over 35 years
---
I have over 35 years of experience in Psychiatry and Psychotherapy and had certification by the Austrian Board of Psychiatrist & Neurology in 1989 from University of Vienna.
I have completed MB. Ch. B degree in Medicine and surgery at Baghdad University in 1974. I have practiced as Senior House physician at Rasheed Teaching Hospital (1200 beds) – Baghdad for three years.
After leaving Baghdad I carried out my post graduate studies at the University of Vienna – Austria working in the Vienna University Psychiatric Hospital with Prof. Peter Berner for more than three years. I was trained in different branches of Psychiatry and Psychotherapy as well as psychosomatic medicine, general psychiatry, relaxation therapies and clinical hypnosis.
I achieved my DPM in General Psychiatry and gained a Fellowship of American Medical Society.
I did my sub-specialty post graduate training for more than a year in London University and Vienna University in psychotherapy and forensic psychiatry (mentally abnormal offenders), alcoholism and other addictions with Prof. J. Gun.
Later I worked as Senior Consultant Psychiatrist and Head of Department of Psychiatry at Rasheed Teaching Hospital for more than 15 years, senior lecturer for postgraduate study in General and Forensic Psychiatry for Iraqi Medical Committee.
I worked in my private psychiatric clinic and was a well – known psychiatrist in Iraq being an active participant in all psychiatric scientific activities as well as an expert advisor for different governmental departments rendering my opinions concerning psychological and psychiatric problems.
I have been practicing in Dubai since 2003 and was working as Senior Consultant Psychiatrist with German Neuroscience Center – Dubai Health Care City for about four years.
General Psychiatry
Child and adolescent psychiatry
Adult psychiatry
Psychotherapy supportive and short time limited interpersonal and behavioral therapy
Special Expertise
Mood Disorder (Different Types of Depression)
Anxiety Disorder& Insomnia
OCD & Panic Disorders
Phobia in general
Bipolar disorder
Schizophrenia – All types of Psychosis
Teenage behavioral and mood disorders
Mental and behavioral disorders associated with addictions and abuse
Attention deficit disorder in children and adults
Training course in Psychotherapy – Austria
Training course in Psychosomatic Medicine – Austria
Training course In Relaxation Therapy – Austria
Training course in Clinical Hypnosis – Austria
Training course in Forensic Psychiatry – Sub-Specialty – Vienna University and London University
Training course in Military Psychiatry & Medicine – Munich-Germany
Austrian Board Certification in Psychiatry & Neurology – Vienna, Austria
MB.CH.B in General Medicine and Surgery – Baghdad University
Dubai Healthcare City - Dubai, United Arab Emirates
Book an Appointment with Dr. Hossein Mubarak
For more information, please contact: , +971 50 2770888
---