How This School Year Help Your Child Grow
---
September 11, 2019
---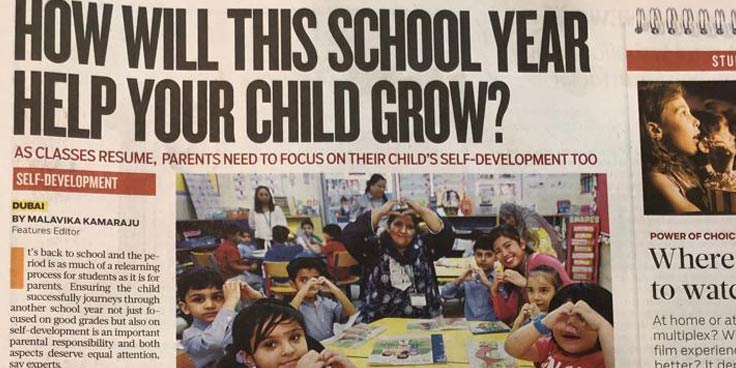 ---
Its Back to school and the period is much of the relearning process for the students as it is for parents. Ensuring the child successfully journey through another school year not just focused on good grades but also on self-development is an important parental responsibility and both aspects deserve equal attention say experts.
Self-development is the grooming of the child in multiple areas of personal perception and appropriate behaviors related to the specific situation "says Dr. Mohammad Tahir, General Child Adolescent Psychiatrist, American Wellness Center, Dubai.
Qualities such as empathy, responsibility, imagination, creativity, spirit of enquiry, compassion, may not be standard-issue curriculum components but they are important assets for children to develop as they advance into adulthood, according to the expert.
The usual need for parents to encourage their children to study is good, but it must be remembered that "Education is for them, they are not for education, "says Dr. Tahir.
"Personal development plays a major part and comes from the home environment, the neighborhood and alto from school socialization, so vigilant parents usually pay attention and accordingly, encourage or discourage behaviors," he says
American child behavioral experts Ken Robinson, author You, Your Child and School: Navigate your way to the best education and Ted Dintersmith, author of What School Could Be, say many parents ask them what questions they should be asking of them selves as their child returns to another school year.
Some of the question they suggest are: In what ways will my child learning be connected to the real world? To what extent will my child be setting their own goals? What skills and mind set should my child be developing during this school year? "What is the school's approach to ensuring a healthy and supportive environment for children.
"Effective Communication, tolerance and patience (in a child) comes with real-time practice and not by just memorizing certain behaviors."
One-way parents can find the balance between ensuring personal development and academic diligence for their children, says Dr. Tahir, is to "help them understand a subject rather than memorize it without an understanding.
Parents should help their child apply what they are taught in daily life and reward them for doing so. Effective communication tolerance and patience (in a child) comes with real-time practice and not by just memorizing certain behaviors and their consequences. It is hard and usually not taught as a course" he says.